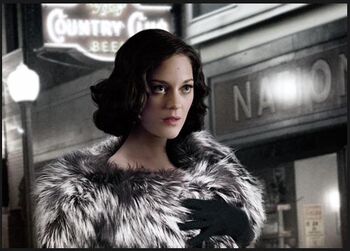 The daugher of the Don of La Cosa Nostra, Antonia has been raised in the lap of many a nanny and luxary. A fun-loving party girl, she demands the best of everything in life and has a temper worthy of any Italian mobster when she doesn't get her way. Her passions can be as fiery as her temper, and her dedication to her desires is equally strong. She runs in the highest levels of society, and is something of a queenmaker for who in those circles can be made or broken. In this way she actually finds herself a very useful space in her father's business, even if it is entirely unofficial.
Description
Edit
Svelte. Lithe. Expensive. These traits spring immediately to mind when looking over this 20-something female. Although only 5'3", the constant use of high-heels give her a much higher presence. Her medium-length black hair, constantly coiffed in the latest fashion, is made darker by her pale, almost translucient skin. Her lips are her least-noticible feature, set off by her elegant Roman nose and, most strikingly, her bright green eyes. The high cheekbones and well-formed chin give her an almost angular look, making her presence even more discernable.Antonia's movements are graceful, almost waterlike, made so by years of expensive finishing school and years of practice. She is constantly adorned in the most expensive, latest fashions.
Relationships
Edit
Ad blocker interference detected!
Wikia is a free-to-use site that makes money from advertising. We have a modified experience for viewers using ad blockers

Wikia is not accessible if you've made further modifications. Remove the custom ad blocker rule(s) and the page will load as expected.